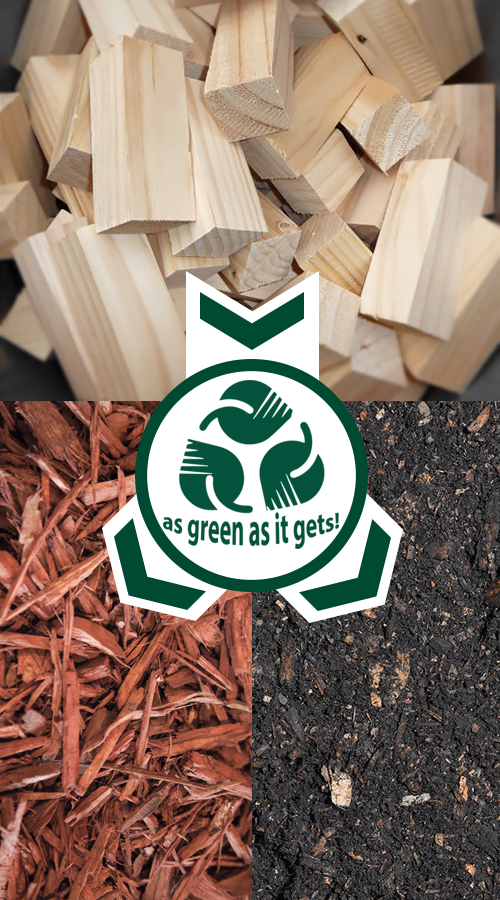 Providing solutions, renewing the past, providing a future. We are "As Green as it Gets."
Mallard Creek's sustainable practices keeps wood waste out of land-fills. We offer a FREE wood waste drop-off center in Rocklin, CA. We accept scrap lumber, pallets, sawdust, tree stumps, branches, and twigs. Some sources of wood waste are building construction and demolition, wooden crates and pallets, old fencing, landscaping, lumber mills, and branches and trees removed from properties. Yard waste such as grass and leaves is not usually considered wood waste. We do not accept treated or painted wood.
Wood waste can be reused and recycled to make new products. Wood waste also makes excellent compost and soil amendments, which conserves water, reduces erosion, and lessens or eliminates the need for fertilizer. Mallard Creek processes the wood waste into several renewable resources including a full-array of colored mulch and bark, several compost products and soil blends. All of these products help control weed growth and conserve water in your landscape and gardens.
Although wood is a renewable resource, conservation is essential to sustainable forestry and environmental protection. We all benefit from keeping wood out of landfills, and there are better options than disposal. And, Mallard Creek is there to assists with the positive benefits.
Businesses that generate wood waste can save money by not sending waste to landfills. The average fee for disposing a ton of waste in a California landfill is about $30 to $40, but disposing of a ton of wood at our processing facility is completely free – as long as the loads are comprised of clean wood.
Businesses may contact us anytime to schedule large load drop-offs. Landscapers, tree-trimmers, fence companies as well as home owners may stop by (during our normal business hours) and dispose their wood waste at our designated drop-off point.